Casting Methods
There are a variety of casting methods available dependent on your part's size, desired material, geometry, and quantity. Select a box to the right to learn more about each process. We can quote multiple casting methods to allow you to evaluate the most cost-effective option for your application.
Near net shape reduces raw material usage
Ability to form undercuts and irregular shapes with cores/slides in tooling
High production capacity
Manufacturing process chosen is based on desired quantity, material, part configuration and volume/capacity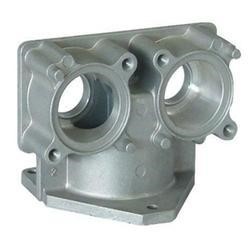 Die Casting
High pressure casting technique excellent for intricate parts in medium to high volume.  Available in aluminum, brass, magnesium and zinc. Secondary machining asssembly and powder coating available in house.
Our manufacturing partner: Production Castings
Metal Injection Molding
Excellent for irregular geometry that cannot easily be machined or die cast.  Ideal for smaller parts due to higher material cost.  Available in alloy steel, stainless steel, tool steel, and titanium. Manufacturing partner:  Avant Medical
Investment Casting
Gravity pouring process that utilizes wax patterns layered in silica ceramic to form parts.  Well suited for low to medium volume production with intricate cores and larger part sizes than MIM.  Stainless steel, steel, brass and aluminum alloys.
Our manufacturing partner:  Dickson Investment Hardware
Advantages of Casting
Near net shape reduces material usage
Ability to form undercuts and irregular shapes with cores/slides in tooling
High production capacity
Manufacturing process chosen is based on desired quantity, material, part configuration and volume/capacity
Options
Secondary machining
Heat treatment
Plating
Materials
Aluminum
Brass
Bronze
Gray iron (ASTM A126-class 20 to 45). Ductile Iron (60-40-18, 60-45-12)
Low carbon and alloy steel
Stainless steel
Zinc